Flu-like SYMPTOMS? Respond with Oscillo from the very first sign !
Some people tend to lump these terms together, thinking that they refer to the same illness. However, flu-like illness and flu are actually two different sicknesses. Their causes are not the same, they do not last for the same amount of time, and the symptoms are similar but less severe. We need to learn how to distinguish between them for optimum treatment.
You have slight muscle aches and pains while you have not done any physical exercise.
You are abnormally tired.
You shiver without getting really cold and feel a sense of discomfort.
You have headaches, more or less strong and lasting.
You have moderate fever: around 38 °C
Our Boiron solution
Trusted for more than 70 years, Oscillococcinum continues to be a convenient and reliable first choice for relief of flu-like symptoms. It has been shown in clinical studies to help reduce both the duration and severity of flu-like symptoms, such as body aches, headache, fever, chills, and fatigue.
How to take it?
Oscillococcinum® is simple to take: Dissolve the entire contents of one dose under your tongue. No water, chewing, or swallowing is required.
Pull dose out of tray
Twist to remove cap
Dissolve entire contents in the mouth
Take oscillococcinum as early as possible, as soon as the very first symptoms of flu-like illness appear, take 1 dose of Oscillococcinum® 3 times daily, for 1 to 3 days. If symptoms persist after 3 days, consult your doctor.
Unlike other flu medications, Oscillococcinum does not cause drowsiness or have known drug interactions. It won't mask symptoms that may develop or indicate a more serious condition, which is especially important due to complications that may be brought on by flu.
Oscillococcinum works best when taken early, so it's helpful to keep it on hand to take at the first signs of flu-like symptoms.
If you do start to feel flu symptoms, keep Oscillococcinum readily available. At the onset of flu-like symptoms, take Oscillococcinum to relieve body aches, headache, fever and chills and reduce the duration of flu symptoms.
SUITABLE FOR ALL THE FAMILY
Can be taken by all members of the family, even young children.*
*For children under 6 years of age, dissolve the granules in a little water.
COMPATIBLE WITH OTHER ONGOING TREATMENTS.
CONVENIENT DOSAGE FORMAT.
Individual single-dose tubes is ideal when out and about, so that you can be ready at the first sign of symptoms. Oscillococcinum® is simple to take: no need for water*, or a glass. Pellets quickly dissolve under the tongue.
NO KNOWN ADVERSE EFFECTS
NON-DROSWY
Proven benefit
Oscillococcinum is a convenient and reliable first choice for relief of flu-like symptoms. It has been shown in clinical trials to both reduce the severity and shorten the duration of flu-like symptoms.
Beneficial impact of Oscillococcinum in prevention of recurrent respiratory infections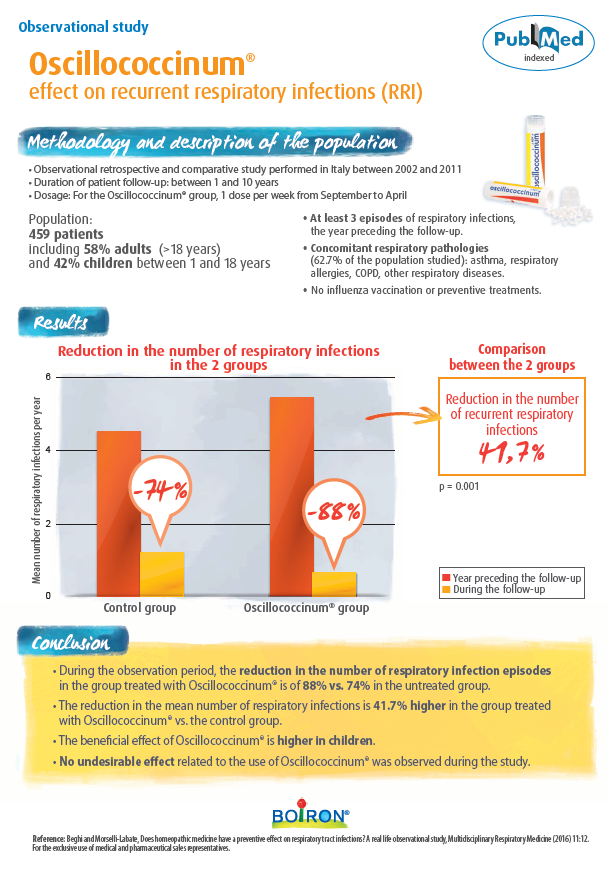 BEGHI STUDY Published by PubMed in May 2016
Source: Beghi and Morselli-Labate, Does homeopathic medicine have a preventive effect on respiratory tract infections? A real life observational study, Multidisciplinary Respiratory Medicine (2016) 11:12.
Clinically demonstrated efficacy against influenza-like symptoms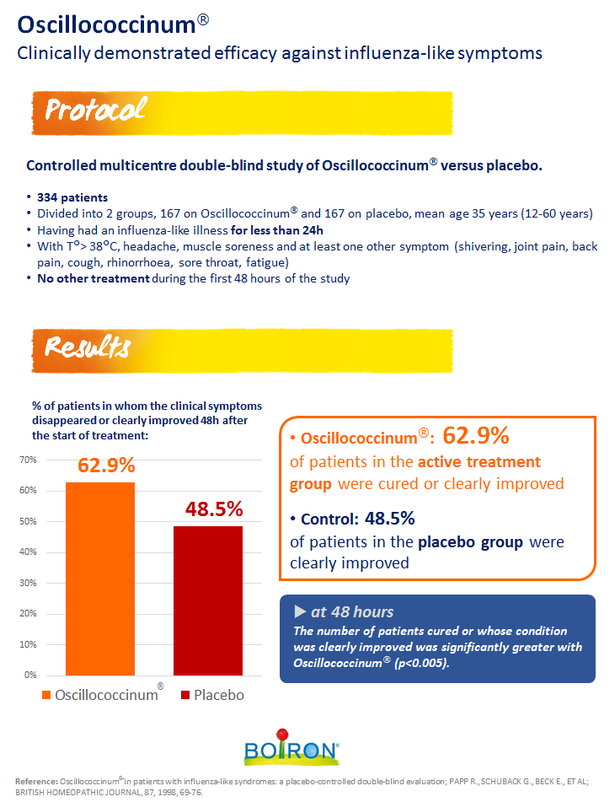 PAPP STUDY Published by British Homeopathic Journal
Source : Oscillococcinum® in patients with influenza-like syndromes: a placebo-controlled double-blind evaluation; PAPP R., SCHUBACK G., BECK E., ET AL; BRITISH HOMEOPATHIC JOURNAL, 87, 1998, 69-76.
HEALTH CARE PROFESSIONAL REVIEWS
KEN REDCROSS, MD BOARD CERTIFIED, INTERNAL MEDICINE PHYSICIAN IN NEW YORK, N.Y. "I have several patients with several different medical illnesses and to be able to offer them something if they start coming down with flu-like symptoms such as fatigue or achiness and know that it's not going to interact in the medications that I have them on — that's a win-win for both me and the patient."